All the photoshoots at Libby Edwards Photography take place in my cosy home studio in the PO2 area of Portsmouth, situated within easy reach of the M275 in North End with on-street parking.
Upon arrival you will be warmly welcomed into my home before going upstairs to the first floor studio.  In the studio you will find a comfortable sofa for you to relax on while I work with baby, right nearby you at all times.  The studio is kept nice and warm for newborn photoshoots so I recommend wearing loose layers.
Having a new baby can turn your life upside-down and the last thing you want to be worrying about is a stranger coming into your home when you maybe haven't been able to do any housework for a while.  Well by coming to the studio for your session none of that matters – you simply leave all that behind.  Another plus is that you may feel overwhelmed by visitors and well-wishers in those early weeks.  Again by coming to the studio you can escape all that, as they won't know where you are!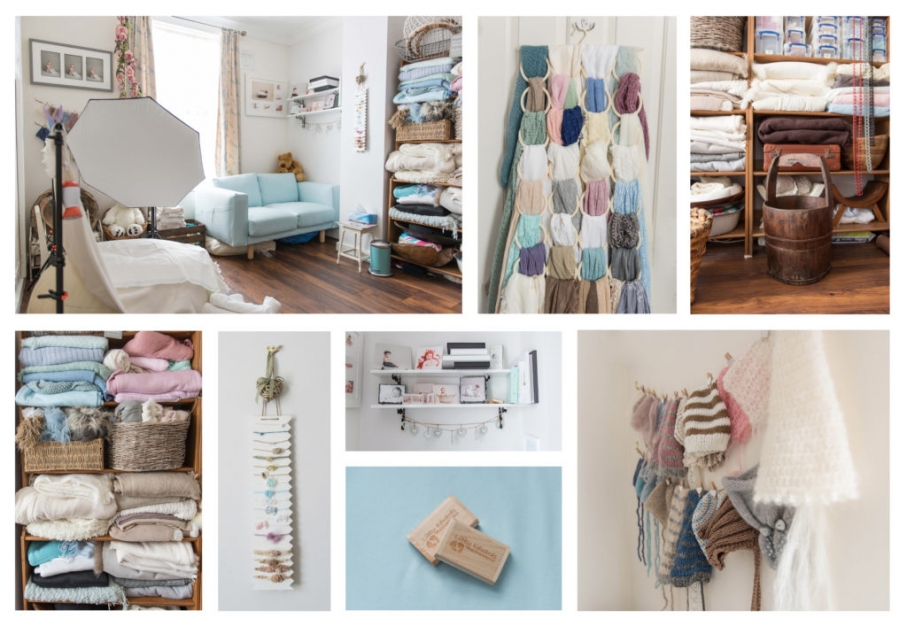 The studio is packed with beautiful things for us to use during your session.  Whether you want neutral tones or something more colourful for your baby photos, you'll find a great selection to choose from.  I have a wonderful range of headbands, hats and outfits, and will ask you to choose the things you like.  I am always adding to my stash of handmade items, so you can be sure to find something to your taste.
I also have a lovely selection of props which we can use to create that wow piece of art to go on your wall.  From antique to handcrafted bowls, metal vintage beds, baskets, fur rugs and buckets.  All the props you see on my website belong to me, so if there is something in particular you would like me to use just ask.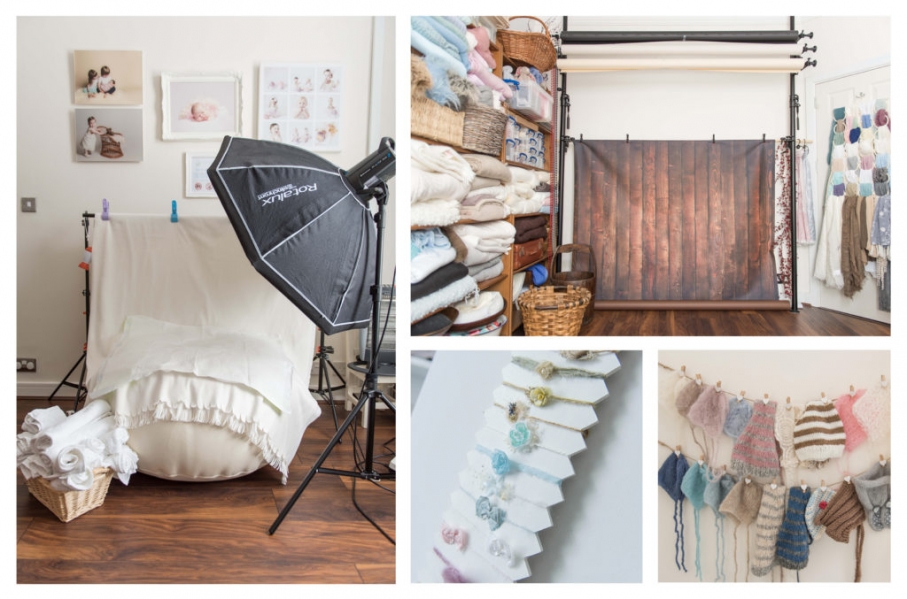 While you relax during the session you will also be able to see, touch and ask questions about the many beautiful products I have on display.  It is incredibly important to me that you have your images displayed and so I have sourced some gorgeous items for you to choose from.  I have a range of wall art on show, including acrylics, framed prints and canvases.  I also have photobooks, mounted print boxes, accordion books and photo slates all on show.
If you are coming for a newborn photoshoot please do wear layers as the studio will be quite warm to keep baby comfortable – after all it was around 36 degrees inside Mummy's tummy!  There will be water available or you may prefer to bring your own cold refreshments (sorry but due to H&S no hot drinks are allowed in the studio), and don't forget some snacks.
I do recommend that not more than 2 adults accompany baby to the session due to the size of the studio, and also to keep distractions for baby to a minimum.  If you would like to have some photos with older siblings included please discuss this with me in advance of the session so that we can decide the best time for them to come to the studio.
So whether you're booking a newborn, simply baby, 6-9mth, first birthday or cake smash photoshoot I look forward to welcoming you into the studio.